I'm in Keflavik International Airport waiting for my flight to Denmark. It's only been 32 hours since I arrived in Iceland, but in that short time I've bared witness to more natural beauty than I ever expected, and been introduced to a country that is quirky, friendly, and so full of new experiences to be had that I need to come back.
Everything about this visit to Iceland has been exciting, from the moment I stepped foot on the Icelandair plane to the bus ride through the beautiful coastal scenery back to the airport. My 5-hour flight from Toronto to Reykjavik was fantastic, in large part because the flight was full of Icelandiana. The flight attendants handed passengers a bottle of glacier water when they stepped on the plane; the pillows came with an Icelandic lullaby translated on them (which was actually kind of creepy, including a line about sleeping with one eye open, but the sentiment was appreciated); the air sickness bag had a map and an explanation of the ocean currents that swirl around the island bringing mild yet unpredictable weather; the pre-flight safety video was shot not in a plane, but in the vast wilderness of Iceland, with each of the usual emergency procedures beautifully worked into the experiences of the main character as she explored the country. The inflight entertainment included local documentaries and cooking shows, giving you a head's up about what to do and local food to watch for. Unfortunately, the only downside was that I couldn't sleep, setting me up for a long day, but even a long, sleepless day couldn't dampen my experiences here.
After landing in Iceland, and finally securing my baggage (with special thanks to the jerk who pulled it off the baggage carousel and left it upside down after they realized it wasn't their bag, leaving me to think it hadn't enjoyed the same flight as I had), Dave and I caught a transfer bus (Gray Line Bus Tours) to Reykjavik, which is about 45 minutes from the international airport. At this point my body was still thinking it was 4am, and so we made a slight decimal place error when calculating the conversion of Icelandic Kronors to Canadian dollars for the bus, but at about $40 round-trip from airport to hotel, it was still well worth it.
The bus ride itself was great, and featured free wifi and a spectacular view of the coastal lava fields between Keflavik and Reykjavik. Mountains rose from every angle, while the ocean followed us all the way into the city. The mounds of moss-covered lava were incredible, and I wish we had been able to get out of the bus and explore these areas.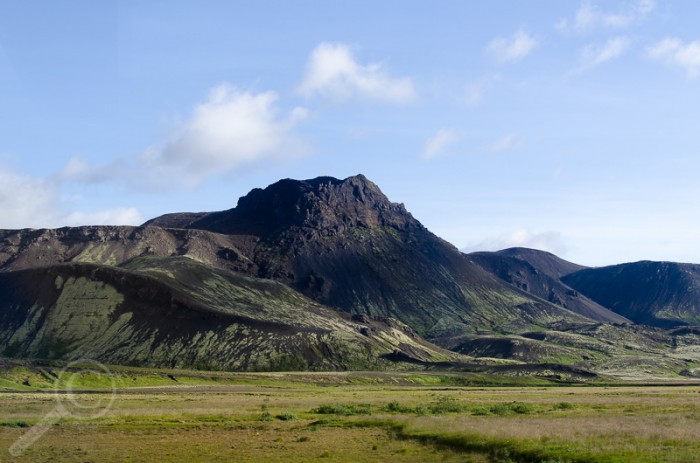 We had a little trouble finding an affordable hotel in Reykjavik (possibly because we booked it two days before we arrived), but ended up at the Capital-Inn Guesthouse, a nice place with clean, comfortable rooms, an eclectic breakfast selection, and friendly staff. The only downside was the $15 cab ride into the city centre, but apparently the city bus system is efficient and can get you there as well. They were also nice enough to let us check into our room early, which gave me a chance to snag an hour nap before heading back into Reykjavik's downtown core to begin exploring the country.
Because we only had a short time in the country, we signed up for an afternoon bus tour (again with Gray Line Bus Tours) of the Golden Circle, a 6-hour loop through some of the geological treasures near the capital region. At only 9000. kr (less than $90cad), this trip was a phenomenal deal. Again we had free wifi on the bus, and more importantly, an incredibly well informed tour guide, who gave a nearly 6-hour lecture on Iceland, seamlessly transitioning from cultural history to natural history, and from geology to politics and ideology. I'll admit that I didn't catch everything she discussed, but that's largely because I was pretty sleep deprived and much too enchanted by the passing scenery outside my window. I did appreciate her discussion of lake ecology and the role that "black lice" (which she said were midges, although I'm not sure whether she was referring to chironomids or biting ceratopogonids), and especially for giving flies a nod when discussing the pollination biology of Iceland (yes, she actually talked about pollination biology on a tour bus, which should be a requirement of all bus tours as far as I'm concerned). But really, the star of this show was Iceland itself.
I walked through the land without a continent, the Rift Valley of Iceland in Þingvellir National Park, where the European and North American tectonic plates are pulling their separate ways and ripping Iceland asunder. On the surface, fields of moss and wildflowers sprinkle the landscape, covering nearly every square inch of the surface not covered by clear, blue lakes, while huge cracks in the lava fields betrayed the violent geology going on beneath our feet. I could have explored this region for hours, poking around the rifts and taking in the crisp, fresh air, but all too soon we were back on the bus, and driving from North America to Europe in a matter of minutes. Volcanoes rose up around us, and we were treated to tales of giants and elves inhabiting the rockiest parts of the countryside, coming down at Christmas to bring gifts for the good and punishments for the not.
Soon we arrived at Gullfoss, the Golden Falls, and took in raging torrents and dancing rainbows of glacial melt water pouring down from the horizon and into the valley. The sun began peeking out from behind the clouds while we were here, highlighting the brilliant white glaciers off in the distance. A two-tiered waterfall with a 90o bend between tiers was something to behold, especially against the gray walls of the river valley. Again, mosses and small wildflowers filled every crack and crevice, providing a micro landscape to rival that of its surrounding geology.
Our final stop of the tour was the Geysir geothermal area. The largest erupting hot spring in this area was named Geysir in the 13th century, and lends it's Anglicized name to similar erupting geysers around the world, while itself settling down to only spout steam and the occasional eruption in recent years. With the ever-present mountains as backdrop, the remaining erupting geyser thrilled crowds as it erupted 100 feet into the air as a plume of near-boiling water and steam at random intervals. Pools and streams formed from thermal springs sparkled blue, white and gold in the late afternoon sun, and the air was filled with steam wafting along on a gentle breeze.  I watched for hot spring associated insects, but only caught a glimpse of something before losing it amongst the mists.
With that, our Golden Circle tour came to a close, and we were shepherded back onto the bus for the journey back to Reykjavik.
Dinner in downtown Reykjavik followed by a walk in the late evening sun (sunset this time of year is after 10pm, which certainly didn't help my inner clock), and then back to the hotel to finally crash for the night, in preparation for my final hours in Iceland.
Seeing as I'm on this trip to visit natural history collections, I figured it was only proper to visit The Icelandic Phallological Museum. With an admission of only 8 Euros, and a room chock full of mammal penises caringly preserved and presented for the world to see, this was something I had to see. Giant whale phalluses were mounted on the wall like trophy stag horns, while glass columns 6 to 8 feet tall guarded fleshy, coiled whale members preserved in formalin.
The museum staff carefully erected signs and exhibits on every possible surface, and featured an impressive array of native and foreign wildlife, from blue whales to field mice, to be compared and contrasted against one another. It's not often a natural history museum gives visitors the chance to play amateur anatomist, especially with organs as large and variable as these. And yes, there were even a few human specimens, donated post-mortem by elderly Icelanders, much to the dismay of the executors of their estates, I'm sure. While I and many other visitors couldn't help but giggle the moment we stepped through the front door, it wasn't long until each quelled their inner 12-year old and began gazing closely into the containers and pointing out the ways in which evolution has molded and shaped the male form.
All I had left was a walk through the streets of Reykjavik among the brightly painted row houses and bold street art plastered around the market area, and I was soon on my way here, the airport. I will certainly have many more stories to be made in the coming weeks of my travel, but I'm not sure how they will compare to these first 32 beautiful hours in Iceland.