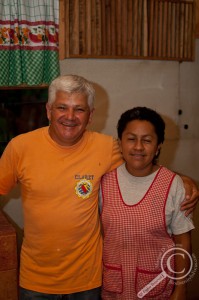 What started as an unproductive sugar cane and cattle farm has been transformed into a leading ecolodge and biological reserve. The El Copal Biological Reserve is the result of a decade's hard work and determination by Beto and Patricia Chavez; owners, operators, and advocates for sustainable sources of income in rural Costa Rica.
By staying below government regulations on how much of their land they could use for farming, and when their farming operations failed to turn a profit, Beto and Patricia made the bold move to transition their land into a biological reserve in the late 1990's. The 160 hectares of preserved primary forest on their property now provide a steady income from birders, tourists, and research scientists for the couple, and has lead them to form a cooperative with other similar rural reserves across Costa Rica, all striving to protect the natural history of their country.
Located about 2.5 hours by taxi from San Jose in the Atlantic mountain valley of central Costa Rica, El Copal is a wonderful location for anyone looking for an affordable getaway with great food, fun, and habitat. Cierra del Muerte is visible across the valleys, and Tapanti National Park isn't far away, making El Copal a corridor between these biologically rich areas.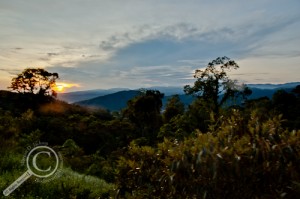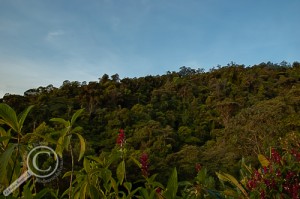 Although not extensive, the two trails winding through El Copal were hand cleared by volunteers, and are well maintained by Beto. One trail leads directly to the summit of the mountain (~1300m above sea level) while the other winds along the ridge across the valley from the lodge, crossing several streams and offering an easier hike. Neither trail is overly taxing, although the hike to the summit is a little overgrown when you near the top and there are some steeper sections. Despite being in Costa Rica at the least opportune time for fly collecting, we still managed to collect some interesting specimens, leading me to believe that El Copal could be a real treasure during peak collecting seasons in the fall and winter.
The facilities at El Copal are on the lower side of the comfort scale (some might say "roughing it") with gaps between the floorboards and no hot water in the washrooms, but I didn't find it to take anything away from our stay. Where else can you go and have an army ant swarm go through your room and out the other side? And after a long hike collecting, a nice cool mountain shower does wonders for cooling you off before lunch. The beds might be a little on the soft side for some, but again, after a full day of hiking and collecting, any horizontal surface works for me! There are two shower stalls and two washrooms which we had access to, although I believe one of the bedrooms had an "ensuite" bathroom as well. The entire bank of washrooms and showers had skylight roofing, allowing for easy showering during the day, but also shared a common ceiling light and short separating walls, making evening showers a little trickier.
El Copal had the facilities to house at least 12 people in four multi-bed rooms, each room fashioned with bunk beds, big windows, bookshelves, electric ceiling light and keyed locks. Towels and blankets are also provided for each visitor (and the blankets were certainly appreciated while we were there for the cool nights). We were lucky and were able to use 3 rooms for 5 people, but if more people are staying here, space may become tight with gear and luggage.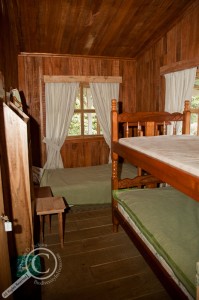 When it comes to pinning specimens, editing photos, socializing, and teaching courses, the main lounge provides plenty of space to sit inside out of the rainy afternoons, and also includes a large table and white board. Beto and Patricia have begun assembling a library of field guides and other natural history works that are stored for people to peruse. This is also the home of the single power bar, fueled by the solar panels located on the roof of the common building. This single power source lights each room and is strong enough to recharge a couple of laptops and some batteries during the day and evening. The power isn't strong enough to power a mercury vapour light unfortunately, but El Copal does have a diesel generator that you can arrange to use with advanced warning (we didn't know this until our arrival unfortunately). If you do decide to visit El Copal with the intention of collecting, I highly recommend using a night light on the corner of the deck (which overlooks the valley and faces 270 degrees of forest; both landscape shots above were shot from that corner), so plan to bring some diesel or arrange for it to be there when you arrive.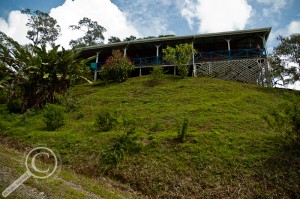 Did I mention that the porch has several hammocks and great wildlife viewing? This fantastic porch was where each of us spent the rainy afternoons, reading, working on our laptops, napping, or watching nature work in the rain.
Of course, after a long day in the field, this was my favourite view: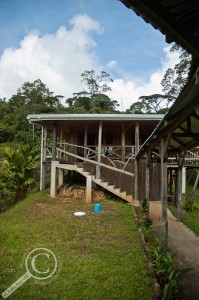 Yep, that's the dining hall. Patricia spoiled us with three amazing meals a day of local food and drink. If you want a sampling of her dishes, read back through my trip notes for our time here, and trust that each and every meal was better than the one before! The dining hall itself seems overly large, perhaps to accommodate groups which travel up for a day but not over night. There is no electric lighting in this building, making each dinner by candlelight, and we enjoyed many evenings conversation with our hosts. It's worth noting that while we were there, the dining schedule was run around us, allowing us to be in the field collecting at the most opportune times. If there are other groups present during your stay, it may vary, but I expect that they would still be quite flexible. Also, if you have special dietary restrictions I'm quite confident Patricia will accommodate you with enough advanced notice.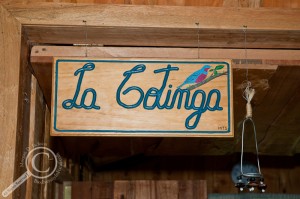 The dining hall is named for a resident cotinga (either Cotinga amabilis or C. ridgwayi, I can't recall which species), which Beto says they have many sightings of throughout the year.
Overall, I have to say that our trip to El Copal was some of the most enjoyable time I've ever spent in the field, despite our relatively poor collecting! We booked our trip through the tourism co-op that Beto and Patricia helped set up, Actuar, however this was probably the biggest headache of the entire process. Although the staff which I dealt with were very friendly, they didn't seem to understand that we had no experience with the Costa Rican transportation system and that we spoke little to no Spanish (we thought, turns out our compatriot's Portuguese worked fine). Multiple emails asking for detailed directions on inter-city buses, times and stops went largely unanswered, or were brushed off as being "easy". We ended up hiring a car to take us from San Jose to Cartago, and another cab to the town of El Humo for a total of $50US because of a misunderstanding of how far we were going. On the way back to San Jose we hired the driver who normally ferries people from El Humo to El Copal to take us the entire way to San Jose for $100US, the normal fare for the distance. After mentioning our booking difficulties to Beto, he suggested we contact him and Patricia directly, and they can arrange transportation from San Jose to El Copal in the future. Note that neither Beto or Patricia speak English (beyond the basics of course), so make sure to run your email through Google Translate or choose Actuar. It's also important to remember that you'll need some basic Spanish to converse with Beto and Patricia about times and meals, and the more Spanish you know, the better your experience will be! I encourage you to consider staying at the El Copal Reserve when you're next in Costa Rica, either on vacation or while searching for your favourite insects!
Habitat: 8/10 – Good primary forest, very little habitat diversity, well maintained trails.
Insect Fauna: 6(8)/10 – Our collecting was relatively poor due to the time of year we visited, but I'd judge a better timed trip will result in better collecting for most groups. You can read more about our collecting throughout the course of the trip here.
Vertebrate Fauna: 6/10 – Birding was a breeze from the patio of the lodge, and we saw 2 species of monkeys, but I wouldn't expect many large mammal sightings. Birder Patrick O'Donnell has an excellent review of bird sightings at El Copal here.
Accommodations: 7/10 – Beds suitable, cold showers, enough room to work, solar power for charging batteries, diesel generator available, no phone, no internet.
Food: 10/10 – Fantastic home cooked, local meals made with fresh ingredients. Plenty of variety and extra large portions for those long days in the field.
Service: 10/10 – Beto and Patricia took care of us like we were family, chatting over dinner, bringing us insects from the field, and providing us with everything we needed for our stay.
Travel Ease: 8/10 – Dealing with Actuar was a little frustrating, but the eventual taxi ride from San Jose to El Copal was relatively easy and problem free.
Contact Information:
Actuar Travel Costa Rica
El Copal Direct Reservations with Beto & Patricia Chavez – Phone: (506) 8880-0432 Fax: (506) 2535-2036 Email: el.copal98@gmail.com (internet is sparsely available in the nearest village, so be patient with replies)