Fact: flies are the coolest insects.
If you don't believe me, take a look at this newly described weevil, Timorus sarcophagoides Vanin & Guerra, from Brazil, which is doing everything it can to fool you into thinking it's a flesh fly (family Sarcophagidae).

Still not convinced? How about seeing it in the wild, strutting its stuff like a sexy sarcophagid.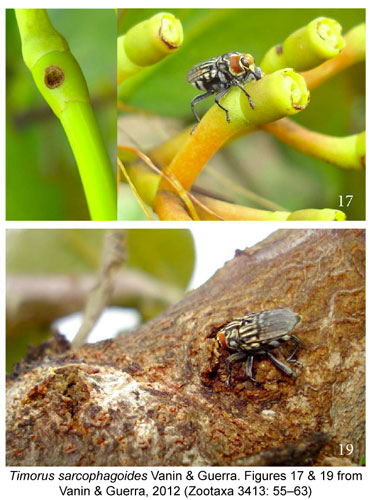 The bright red "eye", the yellow striping on the "thorax", the flatly toned "wings" with "venation" and the striped abdomen come together and scream I'M A FLY! Simply amazing.
The authors that found and described this species did a bang up job of recording its natural history as well. Observed feeding on and laying eggs into the flower buds of a woody mistletoe (Psittacanthus robustus) in the savannah of southeastern Brazil, the beetle even walks like a fly, performing "unusual jerking movements of the legs and a stereotypical leg scrubbing behavior mimicking the behavior of flesh-flies" (Vanin & Guerra, 2012). If the weevil finds itself under threat from an over-zealous entomologist, it gives up the illusion, tucks up its legs and rolls right off the branch, stem or leaf it was on, falling into the undergrowth and out of sight (a behaviour called thanatosis).
But, besides chronically poor self-esteem, why would a beetle evolve to look like a fly? If you've ever tried to catch a house fly with your bare hands, you've probably noticed flies are pretty quick and can disappear from sight in the blink of an eye. This agility means that birds very rarely feed on flies; ironically they only make up 15% of a tropical flycatchers insect diet, while swifts, swallows and foliage-gleaning vireos are even worse, with less than 6% of their insect diet being of the two-winged variety (Hespenheide, 1973). Of the consumed flies, most are the slower, more cumbersome nematocerans like mosquitoes, midges and gnats, while the larger, faster Brachycera (house flies, horse flies, blow flies, the vast majority of fly diversity) very rarely become dinner.
And this is why it's advantageous to look like a fly. If a bird continually wastes its energy chasing after flies without ever catching them, it will eventually stop trying to and instead save its energy to go after slower-flying insects like wasps and beetles. By looking like a fast-moving fly rather than a slow-moving beetle, these weevils are signalling to their potential avian predators "You know you can't catch me, don't even bother. Go eat something your own speed!", while taking their time to enjoy a nice leisurely meal.
So the next time you're walking down Sesame Street at night and fear Big Bird may be following you with evil intentions, pretend you're a fly; not only will it save your life, but you'll look cool while you're at it!
UPDATE: One of the authors that described this new beetle, Tadeu Guerra, contacted me and shared a few other photos that didn't make it into the publication. He's given me permission to post them here, and they do a great job of showing just how good a mimic this beetle really is!
———————–
HESPENHEIDE, H.A. (1973). A novel mimicry complex: beetles and flies, Journal of Entomology Series A, General Entomology, 48 (1) 55. DOI: 10.1111/j.1365-3032.1973.tb00034.x
Vanin, S.A., & Guerra, T.J. (2012). A remarkable new species of flesh-fly mimicking weevil (Coleoptera: Curculionidae: Conoderinae) from Southeastern Brazil Zootaxa, 3413, 55-63PDF Available Here