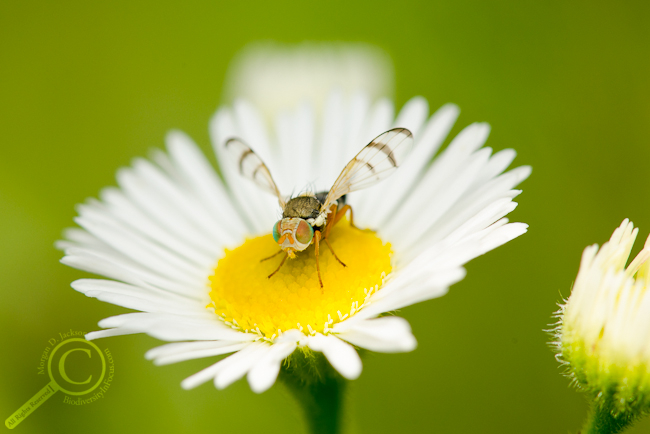 Urophora affinis, a fruit fly in the family Tephritidae, was introduced to Ontario in the 1970's as a biological control agent for invasive European knapweeds. When the researchers went back to check on the population a few years later, they were unable to find the species again, and concluded that the population failed to become established (at least in Ontario, a similar introduction in British Columbia did survive).
Fast forward to 2008 when Adam Brunke (a beetle specialist, ironically) collected a specimen in his parent's backyard, nearly 200 kilometers away from the original introduction site! Clearly Urophora affinis had not only survived, but had even managed to expand it's range across a large portion of central Ontario, a story which I reported in my paper on Ontario Tephritidae last spring.
Later on in the summer, I accompanied Adam and Steve Paiero (of tongue parasite fame) out to Northumberland County (much closer to the original introduction site) where they were conducting a survey, and happened to find a thriving population of Urophoa affinis in a nice sunny clearing. Nearly every composite flower had an individual or two on top feeding and/or mating, and we collected a long series to place in the University of Guelph Insect Collection. I also walked away with a number of nice photos documenting the species in a new location.
It just goes to show that a species can find a way to survive and prosper, even if they go unnoticed by us!
sciseekclaimtoken-4f850e14c19e1